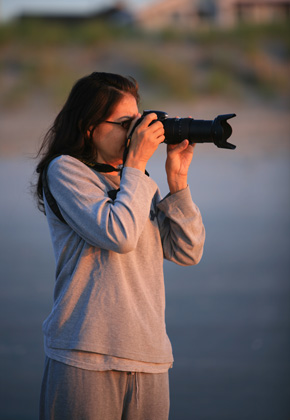 I am a native of Pennsylvania, born in Philadelphia. I have lived in and around the Philadelphia area, mostly in Montgomery County, my entire life. I have a B.S. in Mathematics. I have five amazing daughters who have gotten very used to seeing me with my camera in front of my face (it's how they identify me in a crowd or at a distance). I am a nature girl. I could easily (if time allowed) spend hours observing nature, kayaking and walking with my camera in tow. This is often reflected in my photos. I love animals, both wild and domesticated. I have two dogs right now, but I have had as many as five at one time. We also have a cat, chinchilla, hamsters, rabbit, and tropical aquariums. We have had a pigeon, snakes, frogs, newts and various other pets. Our 13 acre property is a certified wildlife habitat. I feel that all the wild creatures are, in a way, our pets too and I care for them as best I can. I am the Music Director of my church, which includes being the organist, pianist, choir director, and cantor. I perform various administrative tasks and search for creative and inspiring ways to present the music.
I enjoy painting, but lately I have not had the time to dedicate to painting and I find that I take more and more photographs. I used to take a lot of photos with the intention of using them as reference photos for paintings. But now, I just take a lot of photos. I must confess my ignorance in a lot of the intricacies of photography. I am learning as I go. I basically go on instinct and know when I like a shot or realize what I wish I would have done. The images on this photoblog were taken using either a Nikon D40 with a Nikkor AF-S DX VR Zoom-Nikkor 18-200mm f/3.5-5.6G IF-ED lens, Nikon Coolpix 4300, Sony Cyber-shot DSC-P200, or Casio Exilim EX-Z60.
Most of my photos on this blog are my daughters, my pets, my garden, the wildlife that shares our habitat, and a few scattered personal experiences. With this site, my intention is to capture the moment and get something that's decent enough to share with anyone who wants to take the time to look. The images and their details are a reflection of the world through my eyes. Thank you, Justin (www.justingaynor.com), for giving me this blog and thank you, Gen, for encouraging me to post every day. This has become a personal journal, a journey of realization and revelation and a vehicle in which to share my world.
I like getting comments, well the good ones anyway. Please post comments and let me know what you think.